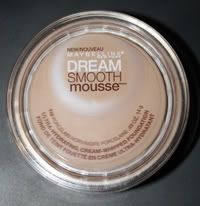 First, I feel that I should preface this with a post-meltdown update. Yesterday was bad. I probably shouldn't have taken it out on my blog, but that's in the past. After I calmed down a little, I decided to "pamper" myself with a lemon and sugar facial scrub that left my skin feeling baby smooth. I plan to do this at least twice a week from now on. Hopefully, it will give my skin some natural clarity, which will make everything else beauty-related not such a pain in the ass.
Now, onto the real purpose of this post: a personal review of Maybelline's Dream Smooth Mousse Foundation.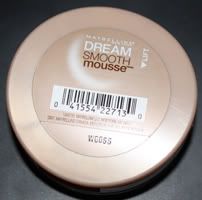 I had to go to the drugstore today (CVS), and while I was there, I picked this up on a whim. I had heard such great things about it - how it made your skin glow, was good for dry skin, was a Holy Grail foundation for most everyone who had tried it, and so on and so forth. Needless to say, I was very curious to try it out.
The packaging didn't really bother me that much, unlike a good many of the reviews I've seen on it. The product itself is in the base of the container, so you have to unscrew the top to get to it. The pop-top part, which is where I guess most people expected the actual foundation to be, houses the sponge that comes with it. There's no mirror or anything like that, but then, who would use a compact mirror for applying something as broad as foundation?
I got the lightest shade - Porcelain Ivory - because I'm a severely white child like that. I couldn't really see the color in the package, though, because (as I said) the product is hidden away in the base of the container, and there's a huge sticker on the bottom covering up the see-through part at the bottom. All I had to go on was the 1/4 inch strip of clear plastic around the bottom edge and a bit of faith.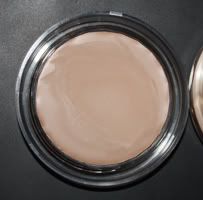 I got it home, opened it up, and ... it looked okay. I was a little skeptical, because it did look just a little on the yellow-ish side to me, but I figured it would work alright.
When I first started putting it on, I saw that the color was more pinkish than it looked in the pot, so that was a relief. As I continued applying it, I was really pleased with how light it felt on my skin. It was definitely that almost-not-there kind of weight, which I really liked.
Unfortunately, that was a far as my liking went. After I got it applied, I leaned in, and oh my god, I could have fainted. Lines I didn't even know I had were doing a Broadway number right there on my face! Before I could get into full-blown panic-/tanrum-mode, I decided to apply a dusting of MUFE HD setting powder and just finish up the whole package (minus the eyes) to see if that helped it any.
Haha! Ha. ha...
I went back into the bathroom with all the big lights to see how it went, and I looked like I was wearing a foundation that was three shades too dark and a billion times too orange. I guess it had oxidized on my face? Whatever. It looked horrible.
So, bottom line: this was a waste of $10.00 for moi, and I absolutely will not be buying anymore of this at any point for the rest of my life. In fact, being the snob that I am, it will probably be a long, long time (and a cold, cold day in hell) before I will trust the Maybelline brand in general ever again.
Oh, and I ordered the Revlon PhotoReady from Ulta, but for some reason (I suspect a dose of crack at 3 a.m., but that's just me and my silly imagination) the awesome folks at UPS decided to tender my package to the "local Post Office."
An hour from where I live.